The City has retained Stonecast Contracting Ltd. to complete the construction of the new watermain on Erie Street from Neff Street to Killaly Street.
The construction work will include:
New watermain
New water services from the new watermain to 1 m beyond property line
New hydrants
Full restoration of all disturbed areas to existing condition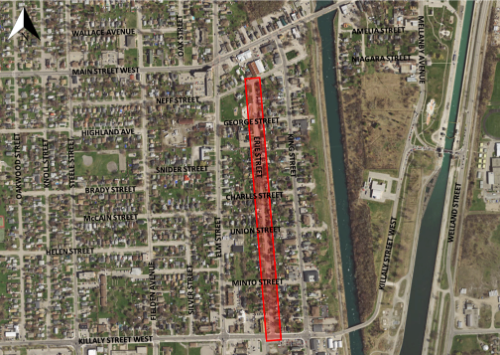 Project Description
The main scope of this project includes construction for the replacement of 755 metres of 150mm diameter cast iron watermain along Erie Street from Killaly Street West to Neff Street, including all appurtenances and connections, as well as abandonment of the existing main. The 150mm watermain, installed in 1944, has been subject to a high number of breaks over the years. This makes it a priority for repair among others in the City.
Please see the resident notification of construction letter for more information.
Project Schedule
Construction is anticipated to commence January 2022 and will continue until completion.
Project Cost
Design (Estimated $108,000)

Construction (Estimated $1.8 million)
Pre-Construction Inspections
Prior to construction commencing pre-construction inspections will be completed. Following award of the construction contract, you will be contacted to arrange for an inspection of the interior and exterior of your building. The purpose of this inspection is to determine and document the extent of any cracking or other damage that exists prior to the commencement of construction. This information can then be used to determine the extent of the Contractor's responsibility in the unlikely event that damages to your building occur during construction. The representatives will have identification with them.
Please see the resident notification letter of OZA Inspections for more information.
Please see the letter from OZA Inspections to residents and or property owners for more information.
Disruption to Water Service
At points during construction, your water service will need to be shut off. This has to be done in order for crews to install new water mains and/or service lines. You will be notified in advance of all planned water shut offs. There is also the possibility for emergency unplanned water shut offs. These can happen when watermains burst or when service lines are ruptured. Crews will restore your water service as quickly as possible during these circumstances. For both planned and unplanned water shut offs, once water service is restored we recommend running a cold water tap for 5 minutes prior to drinking tap water.
Lifecycle
The tender closed on December 15, 2021. Tender for construction to be completed by the end of Summer of 2022.