Mike Zettel / Port Colborne Leader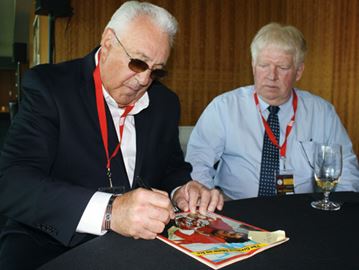 Port Colborne Lounge
FILE PHOTO
Phil Esposito, left, signs and autograph while former Chicago Blackhawk Pat Stapleton looks on. Esposito was the guest of honour at the third annual Steve Ludzik Celebrity Roast at the Scotiabank Convention Centre in 2014. A pre roast meet and greet was held in the Port Colborne Lounge at the centre.
PORT COLBORNE — A report recommending the city cancel its sponsorship agreement with the Scotiabank Convention Centre was pulled after more favourable terms for the city were offered at the last minute.
Since the Niagara Falls facility opened in 2010, the city has been paying about $11,000 a year for the naming rights on the 4,974 sq. ft. Port Colborne Lounge, located on the second floor. Inside, there are two video screens that broadcast a silent version of the city's tourism video.
As the five-year anniversary of the sponsorship approached, staff took the opportunity to review it and found the room was used for 75 days last year with an average of 157 people per event.
The report suggested that wasn't very good value for money and recommended that instead of paying the remaining $66,000 of the contract to cancel it — at a cost of $22,000 — in order to save $44,000 funds that staff recommended be spent on city tourism advertising over the next six years.
But on Monday, CAO Robert Heil said the city was contacted by senior staff with the Scotiabank centre offering better terms.
These include still advertisements on 10 screens through the public areas of the building, an annual sponsor profile in the SCC's e-newsletter, a link to special offers or announcements in the SCC's quarterly e-newsletter, a brochure rack in the Port Colborne Lounge for displaying promotional tourism literature and a profile and link on the centre's website.
It's estimated these features would expose the city's message to nearly 200,000 a year.
"It's money well invested at this point," he said.
Planning director Dan Aquilina also noted that ever more information was forwarded to him Monday.
Staff will compile all the information into a single report to council on June 8.