Steve Henschel / Port Colborne Leader / Staff Photo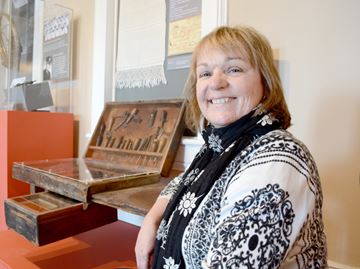 Assistant curator Michelle Mason shows off one of 40 artifacts, a cobblers bench owned by Charles Christian Knoll, that will be featured in the Port Colborne Historical and Marine Museum's Lordy Lordy Look Who's 40 exhibit celebrating the museum's fourth decade of operation.
Exhibit looks back at 40 years of artifacts
PORT COLBORNE — The Port Colborne Historical and Marine Museum is celebrating a little history of its own this year.
It was back in 1974 a steering committee was formed with the direction to establish a museum in Port Colborne. In spring of 1975 the Port Colborne Heritage and Marine Museum opened its doors in the Williams House on the grounds bequeathed to the city by Arabella Williams in 1950. She left the land, and building to the city for a library. With the house not adequate for the library, a new building had already been constructed by the time the museum was founded and opened in the Williams House.
That particular timeline means the museum turns 40 this year.
Museum curator Stephanie Powell-Baswick said over the years much has changed at the museum.
"We have expanded now to include our heritage village, our volunteer-run Edwardian tea room," she said, noting the grounds now boast nearly a dozen heritage buildings.
"The only thing that never changes is it has never stopped changing," she said.
More impressive however she said is the mostly donated archive of more than 17,000 artifacts.
So to celebrate the 40th museum season, which kicks off on May 1, the museum is showcasing some of those artifacts. Specifically one item donated from every year at the museum will be on display with an exhibit title Lordy Lordy Look Whos's 40. Basically there are 40 artifacts on display, each one having been donated or purchased in each year.
"It has been 40 years of collecting," said assistant curator Michelle Mason, who put together the exhibit.
"It was kind of like putting a puzzle together," she said.
The 40 artifacts span across the city's history. For example there are a dated pair of surgical magnifying glasses donated to the museum in 1996, or a cobblers bench donated to the museum in 1989. The late 1800s bench was owned by Charles Christian Knoll, the father of H.H. Knoll and founder of the Humberstone Shoe Factory.
"I've learned a lot," said Mason, noting the bench is just the tip of the iceberg.
The museum officially opens its doors to the public on May 1 with daily hours of operation from noon to 5 p.m.